School Age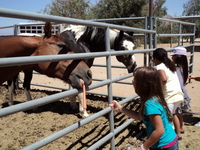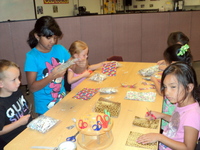 Mission Statement: In pursuit of excellence in care, development, and education of young children in our community, Immanuel Christian Child Development Center in partnership with families, will endeavor to promote and encourage godliness and wisdom while providing safe and educationally enriching alternatives for elementary school children during non-school hours.
Goals and Objectives:
Model Godly character through quality care and supervision.
Provide activities that engage children in identifying their God given skills and talents and train them for success in their current and later school years.
Guide, encourage, and reinforce healthy emotional and social behaviors of children toward peers and adults.
On a daily basis conduct devotions and prayer to help children understand that they are very dear in God's sight and He has a wonderful plan to accomplish in their life.
Support families in raising their children as successful young children of the community.
IMMANUEL BEFORE AND AFTER SCHOOL PROGRAM OFFERS:
A variety of activities that promote positive learning experiences for elementary school children.
Indoor and outdoor play, art activities, board games, computer skills, and special activities
Home work help, tutoring for math, reading and writing by experienced and qualified staff
Morning breakfast and evening snack service and lunch during summer school for full day students
Family support meetings offered on various parenting subjects
Ages Served: 5 yrs-11 yrs
Criteria for enrollment in school age program:
A registration form for admission has to be submitted along with a non refundable registration fee of $100
Children attending Kindergarten through 5th grade in public or private elementary school are eligible for enrollment.
A health background report from a doctor is required with the following prior to the admission in the program:

Past illness or serious injury
Allergies including food allergies
Any conditions that require special attention
Any special problems or fear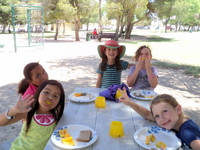 Hours of Operation
AM Schedule - 6:30-8:30
PM Schedule -2:30-6:00
Summer School Full Day - 7:00AM to 5:00 PM
Part Time -AM Program - 7:00 to 12 Noon
PM Program - 1:00 PM to 6:00PM
Summer Schedule & Activities: A variety of recreational activities are provided during summer time
Food Service Provision:
Am Schedule Children – Breakfast
Pm Schedule Children - Snack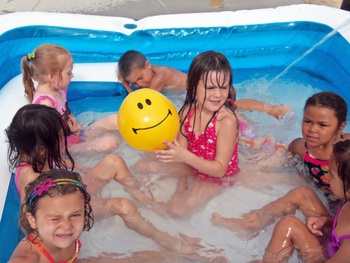 Schedule of daily activities
AM Schedule - 6:30-8:30

6:30-7:00 – Receiving children
7:00-8:30 – Breakfast and Free play [Indoor or Outdoor]

PM Schedule - 2:30-6:00

2:30-3:00- Receiving children
3:00-3:30- Snack
3:30-4:30- Recreational activities include indoor and outdoor play, art activities, board games, computer skills, and craft activities. [Children's choice]
4:30- 6:00 - Home Work

Transportation: Parents will be responsible for transporting their children to and from the Center.
If your child attends Faller or Las Flores elementary schools, school bus service is provided to and from those schools. Please contact the ICCDC office for more information.

Supplementary services: Referral services will be provided if parent seeks for help and also if the program staff feels that a child needs referral services.
Field trip provision: Filed trips will be provided when parents or authorized representative accompany the child and provide for their own transportation. An advanced notification will be sent home for families to sign up.
Daily Inspection for illness: Health check ups are done on a regular basis up on arrival after admittance in the center program
Enrollment
Please return this form with registration fee to the ICCDC, 1201 N. China Lake Blvd., Ridgecrest, CA 93555.